SM LINE transports perishable goods to worldwide destinations in the best condition with freezer containers.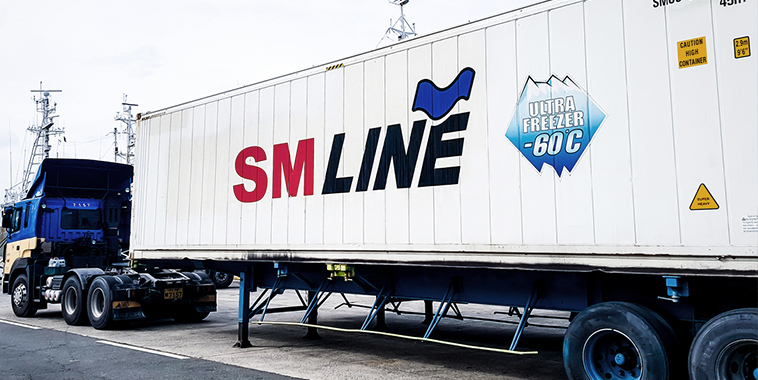 Built and specially designed to accommodate frozen and chilled products, refrigerated containers provide safe environmental conditions, imposed by various modes of transport by sea, road and rail. All of our reefer units are equipped with microprocessor controllers and mechanical partlow charts.
In order to meet our customers' diverse requirements, we own Controlled Atmosphere(CA) containers that maintain ideal conditions for delicate agricultural products.
SM LINE ensures the utmost care and expertise of reefer cargoes by qualified personnel throughout our logistics network to provide the best quality service to our customers.
Characteristics of SM LINE Reefer Service
Ample equipment supply to meet our customer's needs.

Modern fleet of reefer containers with new ones cycled in every year.

Fast transit times on our logistics network.

Extra attention on reefer containers at all points of transit Accurate temperature control using our digital electronic circuits

Regular personal check on board.

Immediate alarm system to identify malfunction units.

Advanced protection system against cargo damage with self-diagnostic digital circuit.

Experienced and knowledgeable staff and technicians for reefer cargo handling throughout transportation.

Transporting high-value products such as raw tuna and beads ice cream by Ultra Freezer (ultralow temperature container).
SM LINE transports perishable goods to worldwide destinations in the best condition with freezer containers.
---
Checking Container Condition and Pre-cooling of Container
When receiving reefer container, shipper should check the outer/inner status of the container as well as the operating condition of the unit.
---
Pre-cooling of Cargo
In order to transport cargo in safe condition, the shipper should stuff pre-cooled cargo into the container at the same temperature which was requested.
---
Pre-cooling of Reefer Container
Do not pre-cool the container itself. Under a situation where the temperature of the surrounding air is higher than the inner air of the container, frost may be produced within the evaporator coil of the unit, and the function of the machine will be affected.
---
Cargo Stuffing for Live Reefer Cargo
For safe cargo transportation, shipper should comply with the below instruction in cargo stuffing process.
01. Cargo stuffing process should occur within the required temperature requested by the shipper.

02. To secure circulation of cooling air, an interval between cargo and door should be maintained as 30 cm.

03. Cargo must not be loaded higher than Cargo loading limit line(Red Line). Red-Line is marked 10~15 cm below from the top.

04. Cargo should be stuffed within loadable weight of container.

05. Cargo stuffing should be proceeded as promptly as possible to minimize cargo temperature increase.

06. After cargo stuffing is done, all 4 container locking bar should be fixed into Cam Retainer and Seal should be fasten too.

07. Mix-Stuffing of different kinds of cargo is prohibited in one container..